MEK-ICS has
taken the lead of developing and commercializing ventilators based on Korea's first and unique respiratory technologies.

Head Office
Company name
MEK-ICS Co.,Ltd
Date of establishment
November 26, 1998
Location (head office)
21, Sangjiseok-gil, Paju-si, Gyeonggi-do, Republic of Korea
Organization Chart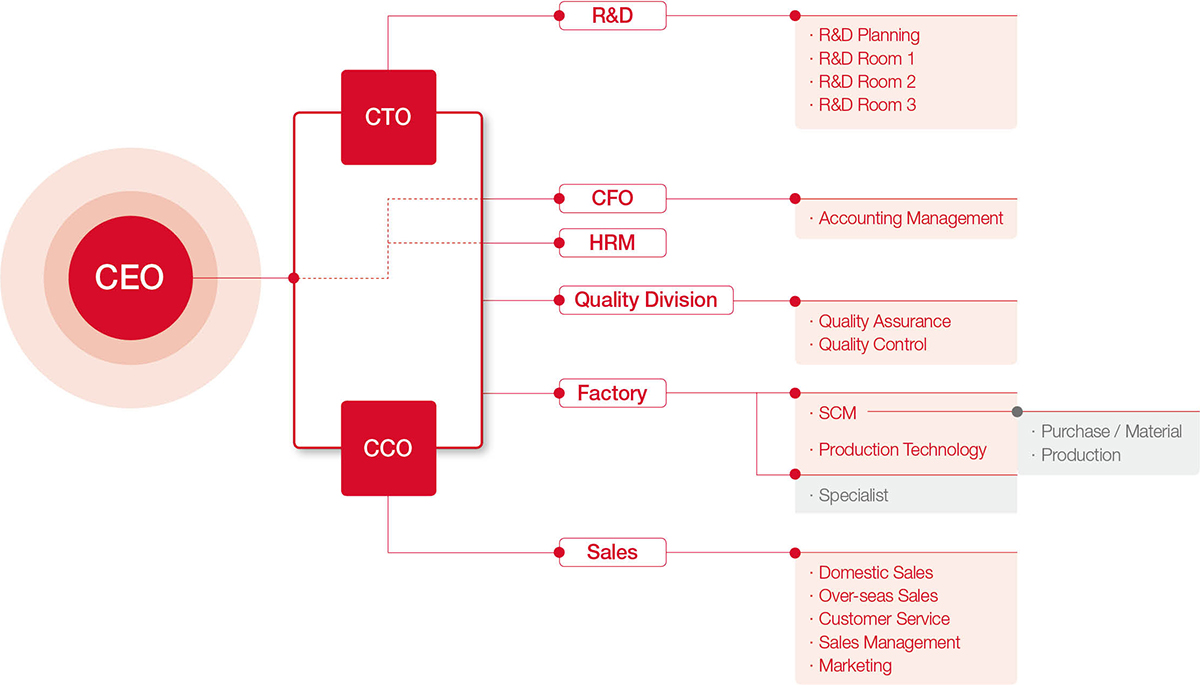 History
Starting with leading the technology for patient monitors in Korea, MEK-ICS has become the first Korean company to develop ventilators and CPAP (Continuous Positive Airway Pressure) for home.
We also succeeded in developing software-type high-frequency ventilation technology and commercializing a world-class combined ventilator.
As a result, MEK-ICS has grown to be the only company that can produce ventilators and respiration care devices in Asia.
2020 ~
2015 ~ 2020
2009 ~ 2011
1998 ~ 2008
2020's
Leapfrog
Progress toward a new future
2020
Declared the Vision 2025
2020
Selected as a global small-giant company in Korea
2015's
Prepared the globalization
Focused on improving product performance and developing world-class products with the listing on the KOSDAQ as a momentum
2015
Launched MTV1000, a mobile ventilator model
2015
Completed the head office building in Paju, Gyeonggi-do
2015
Listed on the KOSDAQ
2016
Established MEK Healthcare, a subsidiary
2016
Established Yentai Sejong Medical Instruments Co., Ltd., a local subsidiary in China
2018
Acquired the WithMed
2018
Launched a total respiration care service "My-SUMM"
2009's
Rising to a new challenge
First development of a ventilator in Korea and a new-concept respiration care system
2009
Launched MP800C, a patient monitor
2010
Launched MP570T, a desktop ventilator
2011
Launched MP1300 and MP1000NTPlus, patient monitors
2012
Developed and launched HFNC+NIV and HFT500
2013
Certified for a world-class product (a universal ventilator) by the Minister of Commerce, industry and Energy
2014
Launched MV2000, a ventilator for serious patients
2014
Developed and launched a CPAP "M3" for the first time in Korea
1998's
Laying a foundation
Foundation as a medical device manufacture by focusing on developing and distributing pulse oximeters and patient monitors
2000
Developed and launched MP10, the world's first portable pulse oximeter
2001
Built the Chuchoen Plant
2003
Launched MP700, a patient monitor
2004
Launched MP800, a patient monitor, and MP111, a portable pulse oximeter
2006
Launched MH200, a phototherapy device
2007
Won the Minister Prize of SMEs and Startups at the Korea Precision Industry Technology Competition
2008
Developed and launched MV2500, a ventilator for serious patients