Business Area
Business Area
MEK INTRODUCTION
Product Value Chain
Technology Value Chain From Vital Signs technologies
to respiratory care technology
Technology innovation is the driving force behind the growth of MEKICS.
We have first commercialized ventilators and CPAP as well as patient monitors in Korea and succeeded in developing a high-flow respiratory ventilator.
The company had focused on developing respiratory care equipment for serious and acute patients in hospitals, while recently completing products and services that cover chronic respiratory care market.
These innovative activities allowed us to pave the way for expanding home care technologies.
Based on combined knowledge and advanced technologies, we are enhancing our unique value chain that aims to build a new technology platform and platform-based business models and strategies.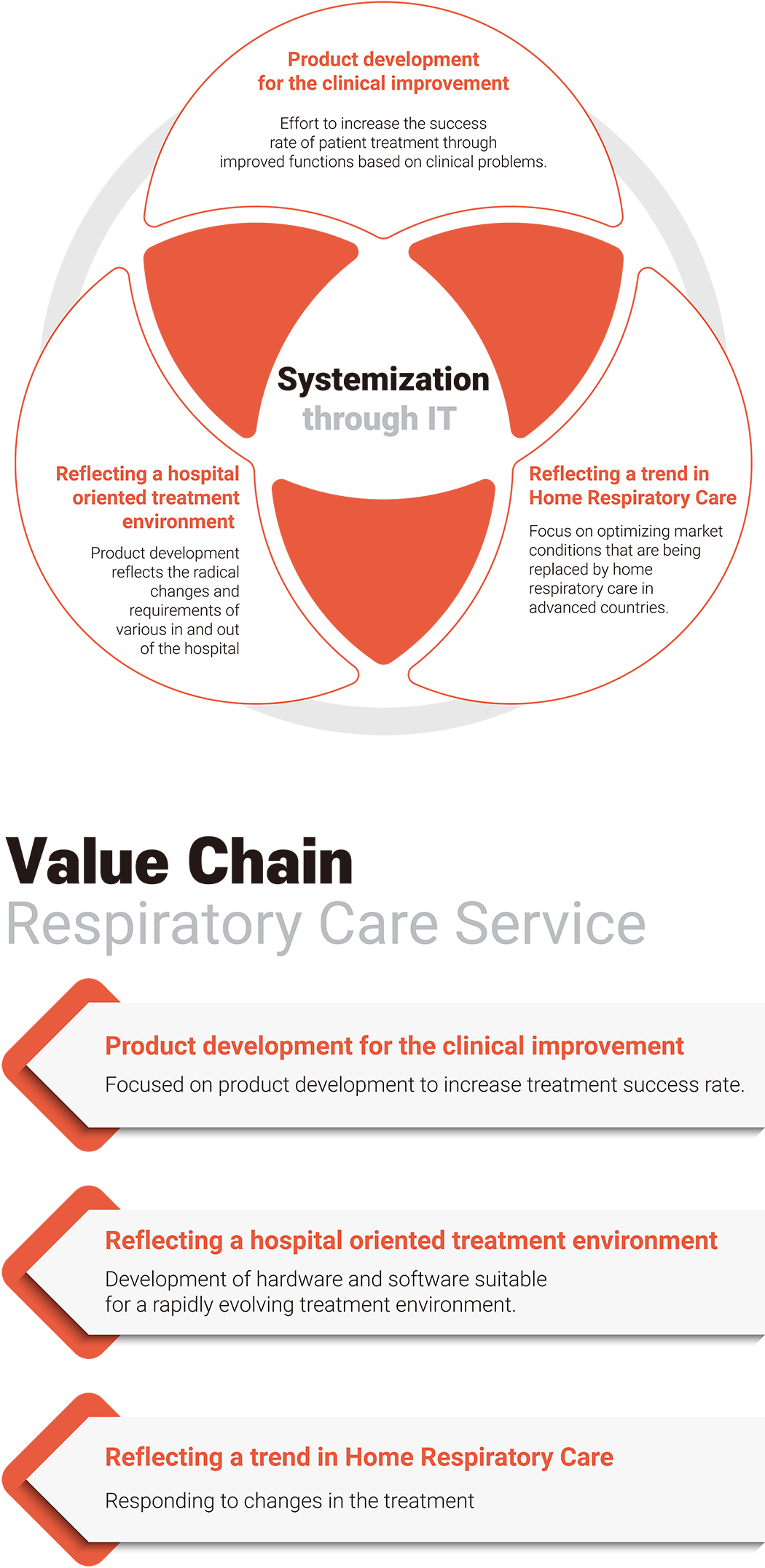 SUBSIDIARY COMPANY
Subsidiaries
MEKICS is responding to changing market environments by securing product lineups that cover all respiration care areas together with subsidiaries at home and abroad.

MEK Healthcare is engaging in marketing activities for the distribution of CPAP solutions that care sleep apnea syndrome and snoring and the expansion of domestic healthy sleep market.
MEK Healthcare
21, Sangjiseok-gil, Paju-si, Gyeonggi-do
1644-1537
http://mekhealthcare.co.kr

WithMed is Korea's largest CPAP service provider that helps sleep apnea syndrome patients easily use the CPAP device and receive better treatment at hospitals.
WithMed
12, Dangsan-ro 38-gil, Yeongdeungpo-gu, Seoul
1644-7713
http://www.withmed.net

YANTAI SEJONG was established to supply better technologies and products at low prices to Chinese consumers. It is promoting the registration of ventilators and respiratory care equipment.
YANTAI SEJONG
Room# 305, 10 Building, No,39 Keji Avenue, Yantai High-Tech Zone, Yantai, China 264007
+86-535-380-264
AGENCY
Agents
The followings are information on our agencies at home and abroad.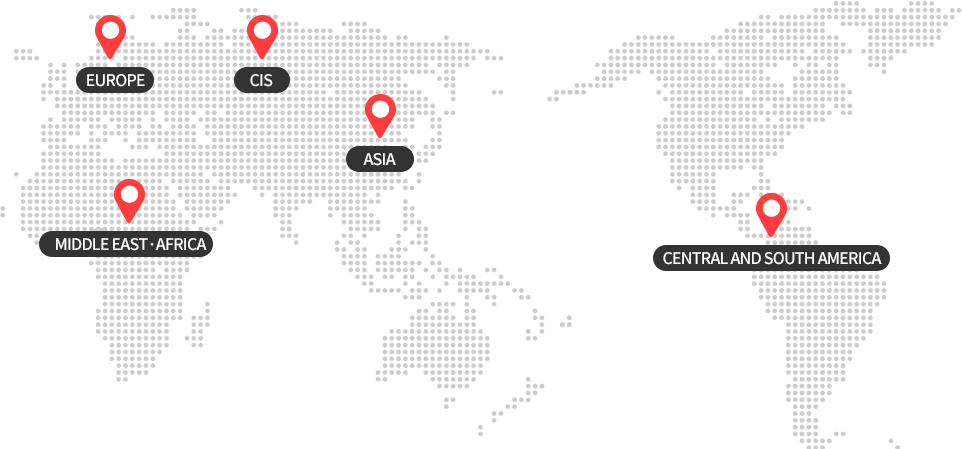 Asia

| Country | Company Name | Products | E-Mail |
| --- | --- | --- | --- |
| Taiwan | Brojaw Inc | HFT700, HFT500 | vera@brojaw.com.tw |
| Malaysia | Symbiomed Sdn Bhd | HFT700, HFT500 | jb@symbiomed.my |
| Bangladesh | Anifco Healthcare | HFT700, HFT500 | sakil.ahmed@anifco.com |
| Vietnam | An Sinh Medical JSC | All products | tranglh.ansinh@gmail.com |
| India | Trivitron Healthcare | MTV1000 | groupmarketing@trivitron.com |
| India | Allied High Tech Products, Inc | SKD(MV2000, MTV1000) | info@alliedhightech.com |
| Indonesia | PT Permana Putra Mandiri | All products | swarsivky@yahoo.co.id |
| Japan | Fukuda Sangyo Co., Ltd | HFT700 | takanori.ichinose@fukuda-sangyo.co.jp |
| Japan | IMI Co., Ltd | HFT500 | kimuran.qhr@imimed.co.jp |
| Thailand | Medicman Thai Company Ltd | MV2000, MTV1000 | prasit@medicman.co.th |
| Thailand | IDS Medical Systems | HFT700, HFT500 | prompornLeaunghirun@idsmed.com |
| Pakistan | Onyx International | MV2000, MTV1000 | j.saleem@onyxgroup.com.pk |
Middle East·Africa

| Country | Company Name | Products | E-Mail |
| --- | --- | --- | --- |
| Lebanon | Flexicare Medical Ltd | HFT700, HFT500 | musa.wer@flexicare.com |
| Saudi Arabia | Techno Orbit | MV2000 | rayesco@gmail.com |
| Syria | Ultravision Medical Equipment LLC | MV2000, MTV1000 | maher.bahlawan@gmail.com |
| United Arab Emirates | Ultravision Medical Equipment LLC | MV2000, MTV1000 | maher.bahlawan@gmail.com |
| United Arab Emirates | Flexicare Medical Ltd | HFT700, HFT500 | musa.wer@flexicare.com |
| Oman | Flexicare Medical Ltd | HFT700, HFT500 | musa.wer@flexicare.com |
| Jordan | Flexicare Medical Ltd | HFT700, HFT500 | musa.wer@flexicare.com |
| Qatar | Flexicare Medical Ltd | HFT700, HFT500 | musa.wer@flexicare.com |
| Kuwait | Flexicare Medical Ltd | HFT700, HFT500 | musa.wer@flexicare.com |
| Morocco | Oxyplus Technologies | HFT700, HFT500 | supplychain@oxyplus.ma |
| Somalia | Star Healthcare Solutions | MV2000, MTV1000, HFT700, HFT500 | info@starhealth.so |
| Sudan | Ibamed for Medical Requirements Trade | MV2000, MTV1000, HFT700, HFT500 | ibamed@gmail.com |
| Egypt | A.M for Trade & Import | MV2000, MTV1000 | samarkhaledam@gmail.com |
| Egypt | Flexicare Medical Ltd | HFT700, HFT500 | enquiries@flexicare.com |
Central and South America

| Country | Company Name | Products | E-Mail |
| --- | --- | --- | --- |
| Guatemala | Futuro Medico Ltda | MV2000, MTV1000, HFT700, HFT500 | info@futmedcorp.com |
| Nicaragua | Futuro Medico Ltda | MV2000, MTV1000, HFT700, HFT500 | info@futmedcorp.com |
| Dominican Republic | Futuro Medico Ltda | MV2000, MTV1000, HFT700, HFT500 | info@futmedcorp.com |
| Mexico | Witu Group S.A. de C.V | MV2000, MTV1000 | davideconet@gmail.com |
| Mexico | Servicios Biomedicos Bazafi S.A de C.V | HFT700, HFT500 | tomas.zamudio@bazafi.com.mx |
| Bolivarian Republic of Venezuela | Homakorp, LLC | HFT700, HFT500 | amarmo@homakorp.com |
| Bolivia | Homakorp, LLC | HFT700, HFT500 | amarmo@homakorp.com |
| Ecuador | Futuro Medico Ltda | MV2000, MTV1000, HFT700, HFT500 | info@futmedcorp.com |
| El Salvador | Futuro Medico Ltda | MV2000, MTV1000, HFT700, HFT500 | info@futmedcorp.com |
| Honduras | Futuro Medico Ltda | MV2000, MTV1000, HFT700, HFT500 | info@futmedcorp.com |
| Chile | Hemisferio Sur S.A. | MV2000, MTV1000, HFT700, HFT500 | mcarroz@hemisferiosur.cl |
| Costa Rica | Homakorp, LLC | HFT700, HFT500 | amarmo@homakorp.com |
| Colombia | Futuro Medico Ltda | MV2000, MTV1000, HFT700, HFT500 | info@futmedcorp.com |
| Panama | Futuro Medico Ltda | MV2000, MTV1000, HFT700, HFT500 | info@futmedcorp.com |
| Paraguay | Homakorp, LLC | HFT700, HFT500 | amarmo@homakorp.com |
| Paraguay | Steven's S.A | MTV1000, HFT700, HFT500 | aline_kochuruba@stevenmedical.com |
| Peru | Homakorp, LLC | HFT700, HFT500 | amarmo@homakorp.com |
| Peru | Inversiones Vittapharma S.A.C | MV2000, MTV1000 | manu_torres2712@hotmail.com |
Notice

| Region | Agent Name | Products | Contact | E-Mail |
| --- | --- | --- | --- | --- |
| Gangwon-do | Sejin Medical | MV2000, MTV1000, MP1300, MP1000NT, MP800, MP110P | 033-746-0358 | sjmed03@naver.com |
| Gyeonggi-do (Southern) | Hansung Medical | MV2000, MTV1000, MP1300, MP1000NT, MP800, MP110P | 02-867-9950 | 8679950@naver.com |
| Gyeongsangnam-do | Daeshin Medicare | MV2000, MTV1000, MP1300, MP1000NT, MP800, MP110P | 051-257-2055 | dsmc2020@naver.com |
| Gyeongsangbuk-do | MEK Plus | MV2000, MTV1000, MP1300, MP1000NT, MP800, MP110P | 010-4531-5905 | sjpark5905@naver.com |
| Goyang | I-MEK Plus | MV2000, MTV1000, MP1300, MP1000NT, MP800, MP110P | 031-906-8380 | smjang8334@naver.com |
| Jeollanam-do | Sunkyung Medical | MV2000, MTV1000, MP1300, MP1000NT, MP800, MP110P | 062-514-1411 | sunkyungmed@hanmail.net |
| Jeollanam-do | Junghyun Meditech | MV2000, MTV1000, MP1300, MP1000NT, MP800, MP110P | 062-956-6520 | jhmeditech2020@naver.com |
| Jeollabuk-do | ProMed | All products | 063-277-4829 | ipnball2@gmail.com |
| Chungcheong-do | DH Medical | All products | 010-4330-6010 | rebron13@naver.com |
| Seoul/Gyeonggi-do | Sudo Healthcare | HFT700, HFT500 | 02-2636-0344 | sudo@sudohc.com |
| Gyeongsangnam-do | 3s Medical | HFT700, HFT500 | 051-851-8701 | 3s11@naver.com |
| Jeollanam-do | Medjin Healthcare | HFT700, HFT500 | 062-511-1667 | medjin1667@naver.com |
| The whole nation | Royal Med | MP1300, MP1000NT, MP800, MP110P | 010-6258-3323 | royalmed@empal.com |
| The whole nation | KG Meditech | MV2000, MTV1000 | 070-4352-1111 | kgm8119@naver.com |
| The whole nation | Centron Medical | MV2000, MTV1000, MP1300, MP1000NT, MP800, MP110P | 02-583-5263 | jjpark@centronmedical.com |
| The whole nation | Namoo Med | VHB10A | 02-6264-0205 | mekic@mek-ics.com |